---
Le VWPP vous encourage et aide à faire une activité de terrain. En effet Lisa Fleury vous propose de l'aide pour trouver des stages à Paris. Beaucoup d'étudiants se rendent compte qu'avec leur temps libre à Paris, faire un stage est un bon moyen de voir un aspect différent de la société française. Par exemple, vous pouvez faire un stage dans une galerie d'art, être bénévole dans une association ou assister des professeurs d'anglais en université, école primaire ou lycée, ou même aider dans une fromagerie !

1. Stage d'assistant(e) d'anglais bénévole
2. Stage au sein d'un petit commerce
3. Stage dans une galerie d'art
4. Stage avec un(e) journaliste
5. Stage aux éditions Flammarion (for credit)
---
1. Stage d'assistant(e) d'anglais bénévole
Hannah Erdheim, étudiante à Vassar College, nous donne ses premières impressions après son stage dans une école primaire: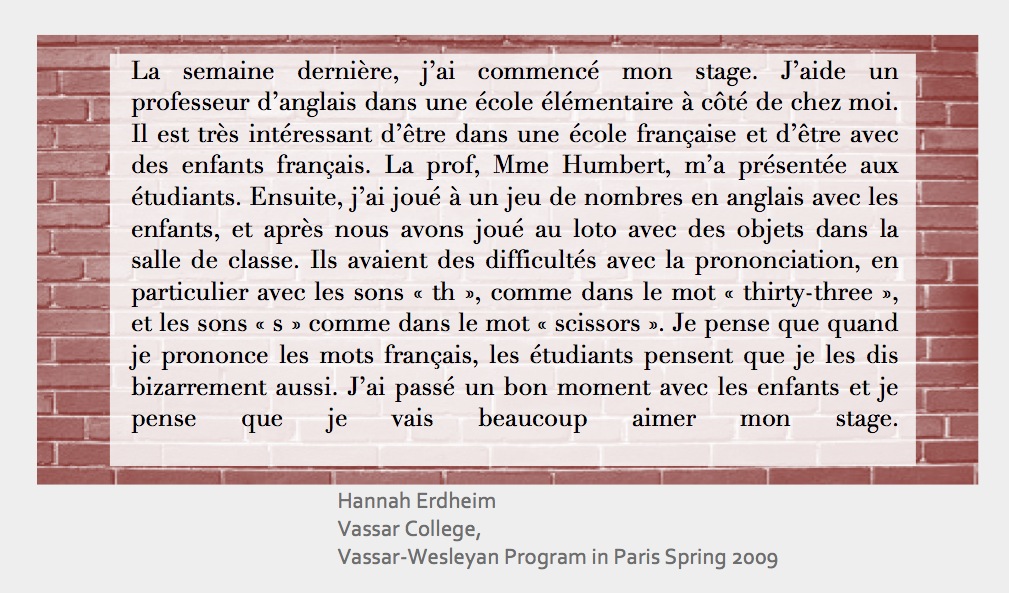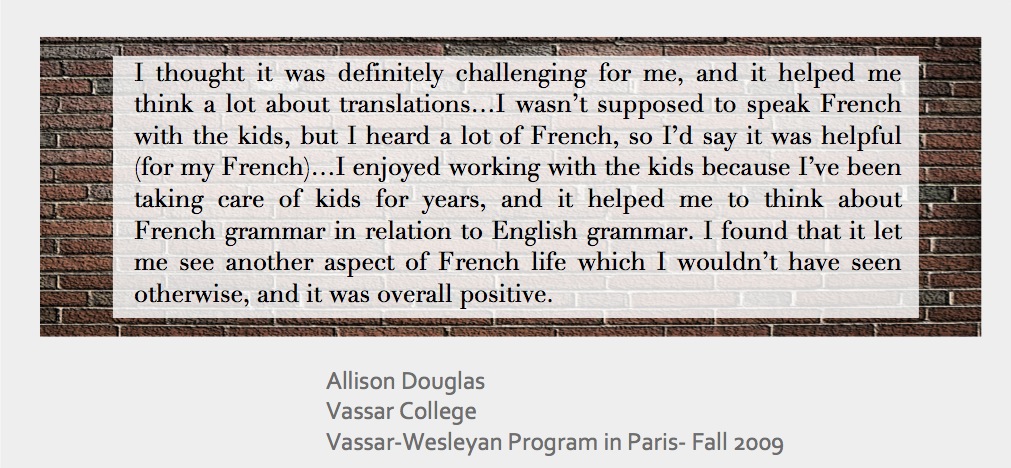 Kelly Toy
Wesleyan University, VWPp Spring 2013
English language teaching assistant
Lycée Professionnel Armand Carrel
What regular tasks were included in your intership ?
My job was to hold conversations in English with students preparing to take the Bac this June. I also edited short papers they'd written and spoke to the students of Mr. Malandain's class about American culture and my experiences in France.
I did not have any background experience in tutoring English, but this kind of work was exactly what I wanted for my internship in Paris.
(My supervisor ,)
Mr. Malandain, did not provide me with much direction. He introduced me to different students and then sent us to a separate room to talk to each other in English. It was left to the high schools and me to direct the conversations and decide how to spend our time together.
How did your "stage" experience influence your semester abroad ?
My stage gave me the opportunity to speak to a lot of French people around my age (the students were 17-19) who I would never have met otherwise. I learned a lot about both French culture and the French perception of American culture from these conversations. I enjoyed my stage and am very happy I was placed where I was.
What did you learn about local institutions, business, society, and people through your experience ?
The French high school system is far less organized and strict than that of the United States. One of the most interesting (and confusing) parts of my stage was seeing the relationship between teacher and student in the school I was at. The teacher acted more like a friend to his students than an authority figure. I never saw him with a serious lesson plan like American teachers would have had and he rarely disciplined the kids when they talked/laughed/refused to participate/clearly didn't pay any attention during class.
Did your "stage" experience influence your plans for your future (career, other) ?Yes
If yes, please explain how :
It has led me to consider returning to Paris after graduating college for a short period of time to help teach English in other schools.
___________________________
Emily Dowling, Vassar, VWPP Spring 2013
English language teaching assistant in a French elementary school
(originally posted in "The Miscellany News")
http://farandaway.s149435.gridserver.com/category/paris-france/
Apr14
My study abroad program (editor's note: the Vassar Wesleyan Program in Paris) seeks to immerse its students in French language and culture to the greatest possible degree. Indeed, we live with French host families, take courses in French at Parisian universities, and even have the opportunity to work at a stage—a French internship. The first week, we were presented with numerous internship options, ranging from working in a wine store to taking photos of French cheeses for a fromagerie to hanging paintings at a Parisian gallery. Since I have been a tutor in Poughkeepsie schools during my time at Vassar, I chose to try a stage as an English teaching assistant in a French elementary school. "How hard could it be?" I thought, "I'm fluent in English!"
As it turned out, I greatly underestimated the challenges of my new job. After expressing my interest in the position, my program director called me into her office to discuss the details—I would be working at a school on Rue Lepic, a street in the northernmost part of Paris, in the wee hours of Friday morning, giving English lessons to two fourth-grade classes. The next day, I snoozed my alarm several times after being jolted awake at the painful hour of 6:30 a.m., and set out to find Rue Lepic, giving myself ample time to spare in case of Metro disasters or wrong turns. After a lengthy, crowded journey on the Metro, I emerged at Place de Clichy, a stop in the eighteenth arrondissement right next to the famed, hilly Parisian area of Montmartre, former home of many famed artists, such as Picasso, Van Gogh, and Dali. I navigated the winding streets until I found Rue Lepic, a tiny road leading up the side of a steep hill.
One of the professors met me at the door of the school and led me upstairs to the classroom where I was met by the stares of 25 French fourth-grade students who were waiting, pencils in hand, to start their English lesson. The next thirty minutes were a blur of anxiety and stuttering as I tried to teach them how to tell time in English by drawing clocks on the board and trying to explain why the United States doesn't use a 24-hour time system in a combination of English and broken French. Every time a student whispered to a friend or laughed, I was convinced that they were ridiculing me, already aware of my painful awkwardness and lack of teaching experience. Their teacher spoke very limited English, and thus could only watch as I bumbled through the lesson, smiling encouragingly at me when I looked especially panicked. After the class, he gave me a book of possible ideas for my next English lessons and told me to try not to be so nervous.
I came back to the Lepic School week after week, gradually growing more confident in my lessons and teaching skills. I searched online for simple worksheets about body parts, pets, and clothes that I could use to teach the students basic vocabulary. Each week, the students grew more and more comfortable with me, maybe a little too much so; they became no longer afraid to ask me questions or speak up in class, and started correcting my French as I tried to explain English concepts. They even started getting up in the middle of the lesson to chat with friends, smiling slyly at me when I told them to return to their seat.
I started searching for fun, easy games I could use to help the students practice vocabulary while also engaging their competitive, social energy. I brought in simple lyrics to English songs and had the students learn them and sing them to me—having a group of fourth-graders serenade me with an off-key version of the Beatle's hit "Yesterday" definitely made the weeks of difficulty seem worth it. When their professor suggested that I teach the students about "American" foods, I created a lesson about S'mores, which do not exist in France (perhaps due to the non-existence of graham crackers in the country). After repeating the ingredients and steps to help the students practice vocabulary, we made a "French" version of the S'more, using Speculoos cookies and German chocolate to replace the graham crackers and Hershey bars.
As my stay in Paris and my time as an English assistant come to a close, I realize that I have had a unique opportunity to observe the workings of the French elementary school system, which are structured much differently from the experiences I remember from my early school years. French students, even at age nine or ten, take meticulous, color-coded notes, studiously writing down everything the professor says with lightning speed. Their English is impressive—even though Lepic has less funding and fewer resources than other Parisian schools, it is evident that the students have had considerable exposure to English. Learning other languages is a huge part of a French education, and the system's dedication certainly pays off—my host mother speaks French, English, and German, and all of her children speak at least two languages at an advanced level. I am happy to leave knowing that I could contribute to this education, and am thankful to have been welcomed so readily, despite my inexperience.
___________________________
Lily Choi
Vassar, VWPP Fall 2013
École Internationale Bilingue
Assistante d'anglais
Working with the English teacher and her students studying for the "baccalaureate exam" and a creative writing journal.  Discussion in class, observing the "bac blanc", creative writing projects.
How was the intership pertinent to your interests and/or background or experience ?
As a Sociology major, I am interested in current events and social issues that were themes for this year's baccalauréat. I was very interested in how French students thought about these issues as well. I am also very interested in literature and creative writing, so speaking to Ms. B…, who is a writer, was extremely interesting especially pertaining to her experience as an Moroccan-American living in Paris. I had hoped to sit in on her Virginia Woolf class, but my schedule didn't allow for that, so hopefully, future students who take up this internship with her might be able to capitalize on sitting in on this class.
How did your "stage" experience influence your semester abroad ?
It was really nice to meet French teenagers because they were very open to exchanging ideas.
What did you learn about local institutions, business, society, and people through your experience ?
I learned a lot about the French high school system, the examinations, etc. I also learned a little about how French adolescents see their own society, through discussing pertinent social issues such as politics, immigration, the university system, social unrest, literature, etc.
___________________________
Hannah Kosman, Swarthmore College, VWPP Spring 2013
English Classroom Assistant, Bilingual primary school
What regular tasks were included in your internship ?
Working with English-speaking students on their work in in English class, answering questions, keeping them on task.
I've thought about possibly becoming a teacher in the future so this was really good experience to have.
I had taken an introduction to education course at Swarthmore, which was nice to have as a sort of a basis. But I don't think it's absolutely necessary.
(My supervisor directed my work by telling)
me what the students were to be working on, what to make sure they did correctly, checked in with me at the end of each day
I was just nice to have an organized activity every week that was completely separate from my coursework and that gave me a sense of a different aspect of life in Paris
(I) learned about the organization of the French school system
(As) I had thought about teaching…after working at this stage, I still am!
___________________________
Max Owen-Dunow, Wesleyan, VWPP Fall 2013
Doing a stage at Lycée d'Alembert was a wonderful experience, and one that I would recommend to future VWPP students. It's a great opportunity to get experience in a classroom, and it is rewarding engaging in the type of cultural exchange that is the simple result of working with students (not all too far from our age) from a wide variety of cultural backgrounds.
---
2. Stage au sein d'un petit commerce
Chaque semestre un étudiant du VWPP peut faire l'expérience d'être derrière le comptoir d'une fromagerie typique et bien implantée dans la ville.
Ici Sarah Hurley derrière le comptoir de La Fermerie à Levallois-Perret en très proche banlieue parisienne. Maintenant Sarah est incollable sur les noms des fromages, et en plus, elle a pratiqué son français.
Note : Charles Varin Bernier, le fromager, est passé à la télévision française le dimanche 13 mars 2011. Retrouvez l'émission ici!
---
3. Stage dans une galerie d'art
_________________________
Jenny Feldman, Vassar, VWPP Fall 2013
Contemporary art gallery assistant, Paris 3e
"My stage was one of the best parts of my semester abroad. I got to meet a lot of French people and introduced to a community of artists, gallery owners, and collectors whom I would not have otherwise. I found it hard to meet other French students at Paris 7, but at the gallery, I was always included and encouraged to interact with everyone.
Working at the gallery taught me a lot about the art world and how it functions. Before doing this internship, I knew very little about the art market. Now, I am well informed. (My supervisor and the director) were always eager to answer my questions and to include me in events like openings that helped me better understand the art business.
I am an art history major, but had never worked in a gallery before. Having studied art from the past at Vassar, I found it very interesting and useful to learn more about the contemporary art world through this internship. I was taking a course on postmodern art at Reid Hall last semester as well and I found it useful to work at Galerie Sator and take this class at the same time. Both added to each other.
I enjoyed my experience so much that I am going to try to do an internship at an art gallery this summer.
I did a variety of tasks including working on the website and facebook page for the gallery, creating a campaign for the exhibition in January at Galerie Sator, editing the folder of various artists who exhibited at the gallery, speaking with visitors and collectors who came to gallery, and helping to prepare and run openings.
I attended and helped at several openings at the gallery. I also attended an art fair in which Galerie Sator was participating.  (I used) French more than 80% of the time (in my internship.)
Everyone with whom I interacted was extremely nice and welcoming.  At first, I found it hard to find my bearings, but after a few weeks, I really felt like a part of the gallery and the community that visited. (The director and his assistant) gave me a lot of responsibility and included me in whatever they were doing. It was an amazing way to learn about the goings on in an art gallery.  My direct supervisor…gave me various tasks to do. She was very open to questions and often asked me for input on what I wanted to work on. She made me feel like we were working together rather than that I was just an intern.
_________________________
Emma Gregoline
Contemporary Art gallery assistant at the Select Café, Montparnasse
(The gallery director) was amazing, and so friendly, warm, and charming… we worked one-on-one a lot with the artists. It was interesting to meet and talk to all of the artists who exhibited their work there, as well as their friends and family who attended the "vernissages." The people on the staff of the Select also became very familiar. I feel like I met so many French adults through this internship!
I wanted to be surrounded by art and people who are interested and inspired by art, and an added bonus was being able to design flyers or posters.
(I helped) to map out each exhibition within the space, hanging each piece on a movable hook, lifting/carrying things, assisting at gallery openings, making posters for exhibits, helping Katy with the website.  Mostly in French.  (There was a) new exhibit openings every few weeks, the reception for VWPP at the Select in December.
Did you take any relevant courses previously or concomitantly that you would recommend ?
The Postmodernism class with Professor Kraguly was very relevant, especially because Katy and the Select had a preference for exhibiting modern and abstract art. I also thought my painting class paired well with it, because some of the other artists in the workshop shared similar painting styles to the artists being exposed. It was also informative to have taken Art History 105-106 my freshman year.
How did your "stage" experience influence your semester abroad ?
The stage enriched my experience in that it gave me another outlet to practice my French outside of class and my host family, and also to see art from an insider's perspective.
What did you learn about local institutions, business, society, and people through your experience ?
It was wonderful to meet so many working French artists, and in such a quintessentially French artsy neighborhood as Montparnasse. It seems like the Select has always been at the heart of French art society! I feel like I got a true sense of how hard it must be to be a struggling artist in Paris, searching for galleries to exhibit your work. And I also got a sense of how many artists there actually are – (the gallery director) has met with so many who want to expose!
__________________________________
4. Stage avec un(e) journaliste
Ali Shajrawi
Wesleyan University, VWPP Fall 2013
Newsweek Magazine – Middle East Reporting Bureau – intern with Journalist Janine Di Giovanni
What did you work on?
Reporting news. Researching and editing weekly article for Newsweek. Writing reports assigned by independent organizations and other government-run programs such as USAID. Administrative works. Building a database for all contacts the Journalist had.
How was the intership pertinent to your interests and/or background or experience ?
The internship was very pertinent to my interests. I'm considering a political career and media/ news reporting is an important element in politics. The process of making the news and conducting interviews and synthesizing a situation is very helpful and necessary to understand the bigger picture.
How did your "stage" experience influence your semester abroad ?
My stage experience had a great influence on me during my semester abroad. I met a lot of really interesting people. I learned a great deal about journalism, a field I was not very involved in before.
Did your "stage" experience influence your plans for your future?
I'm considering a career in politics. This internship made me understand politics through an untraditional lens, journalism. By working on each article every week, I learned to assess critical issues neutrally and focus on a story more than making personal judgements. Politics needs this neutrality when dealing with day-to-day matters of a country and people's lives.
__________________________________
6. Stage aux éditions Flammarion (For credit)
*Cliquez sur l'image pour agrandir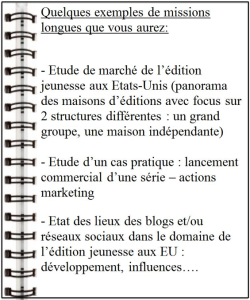 *Cliquez sur l'image pour agrandir
Intern Profile requirements:
Excellent written French, interest and involvement in literature, fiction, texts, and reading. Attention to detail and spelling.  Internet research on the publishing market and reading trends in children's books.
Ability to work harmoniously in an office team, reliable and ponctual.
Must have at least a C1 result on the TCF and a written recommendation from one of the student's French professors attesting to the student's suitability for the position.
Students apply in June; interviews are held in Paris with Flammarion at the beginning of Sept.
Internship:
3 months (mid Sept. to mid December); 2 full days on one half day per week at Flammarion (Monday, Tuesday, and Thursday morning), 
A small stipend (approx. 180E/month), 1/2 metro pass reimbursed, access to cafeteria 4E/lunch are offered to the intern.
---